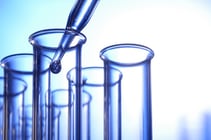 It is because of your generous support that the SSF is able fund talented researchers and expand the Foundation's research program. We strive to foster research that will have the greatest potential impact on Sjögren's patients, ensuring new therapeutics are developed and a cure is found.
The SSF research program is designed to reward exceptional research efforts and encourage investigators to continue their focus on Sjögren's throughout their careers. Many of our researchers' work has led to larger grants by other institutes to continue their work and new Sjögren's breakthroughs!
The Foundation is proud of the work we fund and would like to share with you the five new 2015-2016 SSF Research Grant Recipients and the 2015 SSF Outstanding Abstract Awardee:
Marit Hoeyberg Aure, PhD
Postdoctoral fellow
Center for Oral Biology
University of Rochester
Cell lineage analysis in lacrimal gland maintenance and repair
Download Abstract

Alan Nathaniel Baer, MD
Associate Professor of Medicine
Department of Medicine (Rheumatology)
John Hopkins University School of Medicine
Comprehensive analysis of antibodies in Sjögren's using phage immunoprecipitation sequencing
Download Abstract
Maria C. Edman, PhD
Research Associate
Department of Pharmacology and Pharmaceutical Sciences
University of Southern California, School of Pharmacy
Tear fluid and serum levels of Cathepsin S and its endogenous inhibitor Cystatin C as biomarkers for Sjögren's
Download Abstract
Markus Hardt, PhD
Assistant Member of the Staff
Department of Applied Oral Sciences
The Forsyth Institute
Identification of proteolytic profiles diagnostic of Sjögren's
Download Abstract
Petros Papagerakis, DDS, PhD
Assistant Professor of Dentistry
Orthodontics & Pediatric Dentistry
Clinical Significance of Circadian Rhythms Disruption in Sjögren's Pathogenesis
Download Abstract
---
Outstanding Abstract Award
The SSF Outstanding Abstract Award is designed for the Foundation to recognize excellence in research by new and/or young investigators who present outstanding abstracts on Sjögren's research at professional meetings.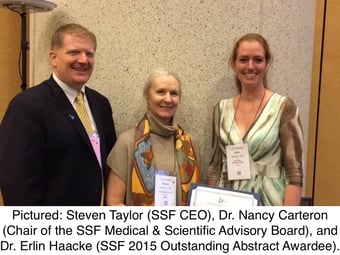 Awardeed at the 2015 American College of Rheumatology Scientific Meeting
Erlin A. Haacke, MD
University Medical Center Groningen (UMCG), The Netherlands
Abstract: Salivary Gland FcRL4+ B-Cells Are a Potential Source of Progenitor Cells for MALT Lymphoma in Primary Sjögren's Syndrome Download Abstract