On July 23rd, 2012 the Sjögren's Syndrome Foundation joined with other Sjögren's groups around the world to celebrate World Sjögren's DayWorld Sjögren's Day and got a BIG boost from Venus Williams, professional tennis player and Olympic Gold Medalist as well as fellow Sjogren's patient.
A year after helping to increase awareness for Sjogren's when she publicly announced her diagnosis, Venus once again stood up for Sjögren's awareness when she carried the Olympic torch through the streets of London on, what more appropriate day, World Sjögren's Day. (July 23rd)
Here is an excerpt from her Facebook page: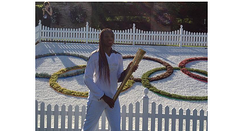 "Today was an amazing day. I carried the Olympic flame right through Wimbledon! I truly felt the Olympic spirit, participation, giving your best and bringing people together no matter what their background of differences. This Olympics is very special to me having battled through an auto immune disease in the last year. It was my dream come true to qualify for the Olympics. To carry the torch today on World Sjögren's day was so fitting. My run with the flame today represented triumph for everyone battling an auto immune disease. I'm planning on enjoying every day at the Olympics, I won't take even one for granted!"
As you know, World Sjögren's Day commemorates the birthday of Henrik Sjögren, who first identified Sjögren's in 1933. This past summer, we asked members and supporters to use World Sjögren's Day as a reason to talk about Sjögren's. Initially, sharing can be a scary thought but you will never know what support is out there if you don't. Awareness can be reached one person at a time and we encourage everyone to find reasons in your own life to talk about Sjögren's.
Venus went on to win the Women's Doubles Olympic Tennis Gold Medal with her sister, Serena Williams. The Foundation wants to not only thank Venus for stepping up for Sjögren's awareness but also for being inspiration to all Sjögren's patients.