July is Dry Eye Awareness Month! The Sjögren's Syndrome Foundation partners with various organizations during July to help educate the public about dry eye symptoms, treatment options, and the possible cause being Sjögren's. We hope you enjoy our July blogs aimed to promote dry eye awareness and education.
Q) I have heard a lot about some Sjögren's patients finding relief from Serum Tears. What are they, how are they made and will it help me with my dry eye?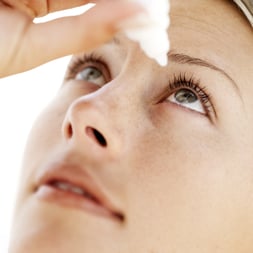 A) Topical autologous serum used to treat ocular surface damage from dry eye disease is usually reserved for the most severe cases that have not responded to other treatments, particularly intensive lubricant and anti-inflammatory therapy. Autologous describes the fact that it is taken from the patient themselves; serum describes the component of the blood that is used to prepare the drop. It was first reported to improve dry eye symptoms and signs in 1984, but there are now a number of reports supporting its beneficial effect in Sjögren's disease. Most often prepared as a 20% topical solution, autologous serum must be prepared by removing blood from the patient's vein and spinning down the clotted cells to isolate the liquid serum which is then diluted in artificial tears solution into small vials. It is not specifically approved by the FDA. Autologous serum contains fibronectin, vitamin A, cytokines, and growth factors, as well as anti-inflammatory substances, such as interleukin receptor antagonists and inhibitors of matrix metalloproteinases. It is not clear which of these components is most helpful, but significant improvement in symptoms, tear break up time, and surface staining have been reported.
The disadvantages of the use of autologous serum include the issue that it must be prepared by the eye care practitioner under well controlled conditions or by a compounding pharmacy, as well as the need to refrigerate the drops. There is a potential risk of infection if contamination of the solution occurs. The stability of frozen autologous serum has been verified for up to 3 months.
Typically, the serum is applied topically four times daily, and this can be done in conjunction with other therapy including topical lubricants, topical cyclosporine, or oral tear stimulants. The serum does not work well with contact lens wear.
This option may not work for every Sjögren's patient and thus one will need to find an ophthalmologist or optometrist that is familiar with Serum Tears to accurately gauge the benefits.
-Gary Foulks, MD, FACS
This information was first printed in The Moisture Seeker, SSF's patient
newsletter for members.