For the past 35 years, the Sjögren's Syndrome Foundation (SSF) has been incredibly proud to support Sjögren's patients and their families. We are also extremely honored to serve as the voice for all Sjögren's patients as we combat this complex disease.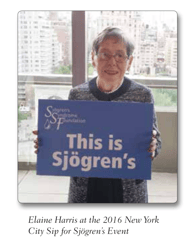 The mantra of our founder, Elaine Harris, "founded by a patient, for patients" remains the center of what we do.
Our initiatives, programs and overall efforts are first and foremost started, advanced and expanded with the Sjögren's patient in mind. And t
he SSF staff, Board of Directors and volunteers all work to ensure the patient voice is never lost in our efforts.

While we have made great strides, we also recognize that as our disease evolves and the SSF expands our reach and scope, we must continue to create a community where patients, healthcare professionals and researchers come together to conquer the complexities of Sjögren's. This is our vision for the future, but we can't do it alone.


I want to thank you for investing in us, for volunteering with us, and for sharing our passion and vision for strengthening OUR Sjögren's community. We look forward to continuing to serve as the voice for all Sjögren's patients and are excited for what the future holds. We thank you in advance for your support and generosity as we work together to make a real difference in the fight against Sjögren's.
With many thanks and best wishes for a happy & healthy holiday season,

Steven Taylor
Chief Executive Officer
P.S. We also encourage you to share this with family and friends so they too have the opportunity to support the SSF