Valentine's Day Giveaway
To celebrate the season of love, the Sjögren's Foundation is holding our annual Valentine's Day giveaway to show how much we appreciate you! Read below to learn how to enter and win one of three complimentary registrations to the 2020 SSF National Patient Conference!
How to Enter:
To enter, all you have to do is comment "Happy Valentine's Day" below on this blog post by 11:59pm EST today- February 14, 2020. The Foundation will privately email the three winners on Wednesday, February 19, 2020. Winners will be picked at random and the registrations are only transferable through family members, which means your family members may also comment and enter can comment below to give you an extra chance at winning! Please email us at info@sjogrens.org with any questions.
2020 National Patient Conference
April 3-4, 2020
Phoenix, AZ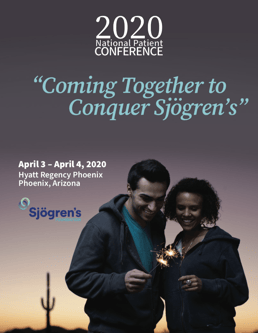 Presentation topics will include:
Sjögren's: An Overview
Integrative Medicine: A Role for Treatment in Sjögren's
Oral Manifestations of Sjögren's
"Ask the Doctor" Panel
International Sjögren's Research Update

Autonomic Nervous System Involvement and POTS
How Coaching Can Help You Live Your Best Life
Sjögren's and Dry Eyes: What's New?
Pediatric Sjögren's
Transforming the Future of Sjögren's
And more to be announced!