What is it? How is it treated? Can you avoid it?
Medical dictionaries define "flare" as a sudden exacerbation of a disease. A flare is different from the day-to- day variation of symptoms that patients with chronic diseases experience and is characterized as a large and rapid increase in a patient's usual symptoms. I like to define a flare as a sudden and significant increase in the activity of a disease. This definition allows us to use quantitative measures of disease activity to compare levels of disease activity from one point in time (e.g. baseline) to another (e.g. flare).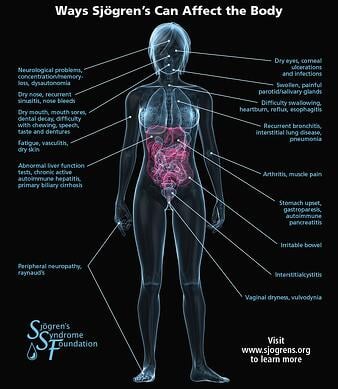 Several measures of disease activity have been developed for Sjögren's. The two most promising are the European League Against Rheumatism Sjögren's Syndrome Disease Activity Index (ESSDAI) and the European League Against Rheumatism Sjögren's Syndrome Patient Reported Index (ESSPRI). The first is a tool that measures disease activity from the physician's perspective in the many organs and systems affected by Sjögren's.
The second measures disease activity from the patient's perspective and includes a patient's global assessment of disease and individual measures of dryness, pain, and fatigue. These surveys have been developed to consistently evaluate disease activity in research settings such as clinical trials. Nevertheless, they could be used in clinical practice as guidelines for evaluating disease activity in the office or clinic. The ESSPRI is a simple tool that could be used in the clinic, much like the use of the Health Assessment Questionnaire (HAQ) in patients with rheumatoid arthritis and other rheumatic diseases.
When patients say they are experiencing a flare, they usually mean that they are experiencing a marked increase in their Sjögren's symptoms such as dryness of their eyes and/ or mouth, joint and muscle pain, and fatigue. Other symptoms might include swollen glands, skin rashes, or numbness and weakness in extremities. Physicians must make sure that these symptoms and signs are in fact a flare of the Sjögren's and are not caused by other conditions that are not associated with Sjögren's. These include infection, anemia, thyroid disease, drug side effects and fibromyalgia syndrome, to mention a few.
Since there is no specific treatment for Sjögren's at present, treatment is symptomatic and dependent upon which organ system is involved. There are several things you can do to lessen the likelihood of getting a flare. Keep taking the medications prescribed for you on a regular, daily basis. Eat a healthy diet, exercise regularly and get restorative sleep. Try to minimize physical and emotional stress and develop good coping mechanisms when stress is unavoidable. Hydroxychloroquine has been shown to lower disease activity in systemic lupus erythematosus and may be similarly helpful in Sjögren's. Your physician also might recommend other medications to improve your symptoms.
-Neil I. Stahl, MD, FACR
This article was first published in The Moisture Seekers, SSF's member newsletter.