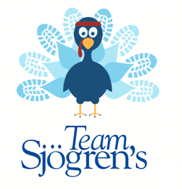 "How did you first become involved with the Sjögren's Syndrome Foundation?"
I am a pediatric rheumatologist with an interest in better understanding Sjögren's in children. This naturally led to me to connect with the Sjögren's Syndrome Foundation (SSF). My first formal interaction with the Foundation was in 2015, when the SSF invited me to contribute to their publications to help raise awareness that children get Sjögren's too. Along with a colleague and friend, Dr. Jay Mehta at the Children's Hospital of Philadelphia, we wrote articles for The Moisture Seekers, Sjogren's Quarterly and put together an SSF Patient Education Sheet on pediatric Sjögren's. This was a start to many additional interactions with the Foundation, which have been great experiences for me on many levels. I am constantly amazed by how much the SSF does to promote awareness and to help better understand Sjögren's in all people, in order to develop better treatments to help improve the quality of lives of those with this potentially devastating, yet for some reason often overlooked, disease.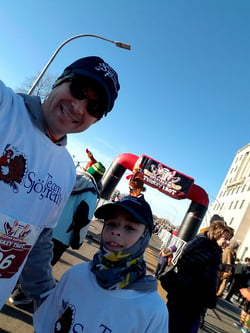 "What made you and your son decided to run a Turkey Trot race for Team Sjögren's?"
A few years ago, my son Tyler developed an interest in running, and we started running 5K races together. I knew about the Team Sjögren's running events where participates from around the country would run together as a team, but we have not been able to make those. Then when I saw an email about running as a part of Team Sjögren's but in one's own local Turkey Trot, I mentioned it to Tyler. He was excited, so we signed up for our local Turkey Trot in Cedar Rapids, Iowa, and also signed up with the SSF to run this race for Team Sjögren's.
"Before running in the race, was your son familiar with Team Sjögren's and how did you explain it to him?"

Besides participating in efforts to better understand Sjögren's in children, I run a basic immunology laboratory focused on understanding what goes wrong with the immune system leading to the autoimmune attack on tear and saliva-producing glands in Sjögren's. Tyler has heard me talk about Sjögren's around the house on many occasions and has watched me practice various talks on the different aspects of Sjögren's. (I actually included Tyler in the acknowledgments during my presentation on Pediatric Sjögren's at the 2017 SSF National Patient Conference because he had made some suggestions when I was practicing that talk!)
Representing Team Sjögren's at our local Turkey Trot meant something to both Tyler and myself. He wanted to make sure he understood what exactly it meant to run as a part of Team Sjögren's. I explained to him that by wearing the Team Sjögren's shirts and hats and pins to the race we were helping to raise awareness about this disease. I explained to him that this was especially important because many people do not even know that this disease exists, even though it is actually very common. He wanted to know what he should say to people if they asked what Team Sjögren's was. Then he wanted to practice his response after I explained to him that autoimmune diseases occur when one's immune system gets confused and begins to attack one's own body, and that with Sjögren's, the immune system attacks the tear and saliva-producing glands but can also attack almost any other part of the body too. That led to many additional questions about the disease and made him much more confident in fully representing Team Sjögren's on race day.
"Did anyone at the race ask you or Tyler about Sjögren's?"
Tyler and I wore our Team Sjögren's shirts, hats, and pins for the race. Undoubtedly, people saw that we represented Team Sjögren's, but unfortunately, Tyler did not get the opportunity that day to explain to anyone what Team Sjögren's was. Maybe we ran so fast that no one could stop us to ask!
Click here to purchase your Team Sjögren's Turkey Trot T-shirt/kit with our new 2019 design!