On July 23rd, the SSF invites you to unite with us and participate in World Sjögren's Day!
World Sjögren's Day commemorates the birthday of Henrik Sjögren, the Swedish ophthalmologist who first identified the disease in 1933 and has helped all patients find answers to their health questions. This year, the SSF will join with other organizations around the world to celebrate recent advancements made in Sjögren's this past year and raise awareness of the disease in honor of Dr. Sjögren.

World Sjögren's Day helps

put a face on the millions of people who live with this disease or suffer from symptoms and have yet to be diagnosed. It gives everyone touched by Sjögren's a vehicle to reach out and educate those close to them - family, friends, co-workers, neighbors, etc. - about the disease.




We encourage you to use this opportunity to let your voice heard and talk about Sjögren's with the people in your life. By sharing your story and educating others, you are helping to form the message that Sjögren's is a serious disease that deserves to be recognized. You may also be helping someone who is looking for answers to their problems.

How Can You Get Involved: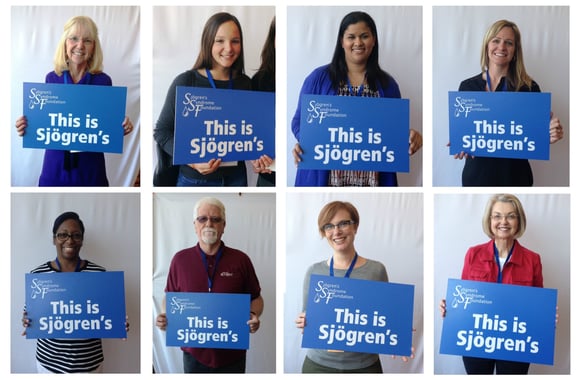 What is Sjögren's?
Sjögren's ("SHOW-grins") is a systemic autoimmune disease that affects the entire body. Along with symptoms of extensive dryness, other serious complications include profound fatigue, chronic pain, major organ involvement, neuropathies and lymphomas.
Today, as many as four million Americans are living with this disease and nine out of ten patients are women with an average age of onset in the late 40's. However, Sjögren's can occur in all age groups, even in children.
---
UPDATE:
World Sjögren's Day Raises over $8,000!
Thank you to everyone who shared their story and donated in honor of World Sjögren's Day, which was created to commemorate the birthday of Dr. Henrik Sjögren! Together, we not only increased awareness of this debilitating disease but also raised over $8,000 for Sjögren's research and SSF patient programs!
Remember, even though the day has passed you can still donate in honor of Dr. Sjögren and all patients. Click here to learn more.