Faces of Sjogren's: Shelly's Journey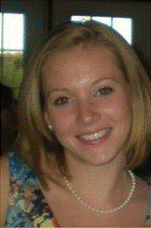 When I was diagnosed with Sjögren's, my first thought was…
"Well, that makes a lot of sense but now what?" I was diagnosed around Christmas of 2011 at the age of 23, however I've had symptoms since I was in my teens. When I received my diagnosis, my rheumatologist offered no treatment options and told me "Follow up every 6 months with blood work" – that's it.
At this point, I didn't even know how to pronounce Sjögren's let alone manage it. With no support from my rheumatologist, I searched the internet to better understand my disease and discovered the Sjogren's Syndrome Foundation.
Here is what I discovered about living with Sjögren's:
I am young to have a diagnosis however I don't like to use the word 'young', I like to use 'lucky' instead. I am lucky to have an early diagnosis.


I am blessed to have a Sjögren's Syndrome Center within driving distance of my house and I will utilize the center as much as I possibly can.


I'm scared of the risks associated with the disease and the medications taken for the disease.


I haven't taken life for granted as much as I used to.


Though it's been hard, I have learned to accept that sometimes I am not going to have the energy to do what I would like. I am my biggest critic so this has been one of the hardest aspects of the disease for me to accept.


Through my diagnosis, I have learned that worrying only leads to flares in the disease so don't worry!
- Shelly
Click Here to view more Faces of Sjögren's stories