What is Plaquenil and what are its benefits for Sjögren's patients?
Plaquenil (hydroxychloroquine) is a medication that has been used for many years to help musculoskeletal symptoms and fatigue in patients with autoimmune conditions such as rheumatoid arthritis, lupus and Sjögren's. While there is good clinical evidence demonstrating the drug's efficacy in rheumatoid arthritis and lupus, there are very few studies looking at hydroxychloroquine as a treatment for Sjögren's. The studies that do exist show mixed results (some show benefit and some show no benefit) in whether or not the drug is effective in helping with pain, fatigue, dry eyes or dry mouth.
Nonetheless, despite the lack of clinical studies, rheumatologists feel that hydroxychloroquine may have a potential beneficial effect in helping patients with symptoms of fatigue and achiness, which are common complaints in patients with Sjögren's.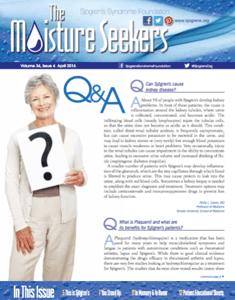 How the drug works is unclear, but recent research has pointed to an inhibitory effect on toll-like receptors that are proteins involved with inflammation. The good news is that hydroxychloroquine targets the immune system without causing an increase in the risk of infection or cancer that can be seen with other immunosuppressant medications. The typical dose for hydroxychloroquine is 200-400mg per day and is based on a person's body weight (or if you are overweight, your ideal body weight). While hydroxychloroquine is considered a relatively safe medication, like all medications there are potential risks. These include body rashes that often will itch. The rash typically occurs in the first 6 weeks and is usually mild. In general, the rash will resolve within 2 weeks after stopping the drug. A more severe rash affecting larger areas of the body may occur but is not common. If this type of rash occurs, other medications such as anti-histamines and steroids may be required to help with symptoms.
Over time, hydroxychloroquine may uncommonly have an adverse effect on the retina that can lead to permanent visual damage if not picked up early. In order to protect the eyes, a baseline exam is recommended be- fore starting the drug if you are color blind, have prior retinal problems or have never had a dilated exam (checking color vision is one way the doctor monitors for early damage) or within the first 6-12 months if you have a history of healthy eyes and a recent retinal examination. After the baseline exam, it is recommended that patients get a dilated exam at the minimum of once per year. Retinal problems are more likely to occur after 5 years of use. Newer technologies are available (OCT-optical coherence tomography) that can pick up early changes. If early changes are found on exam, it would be uncommon to have progression of eye toxicity or visual changes.
Other potential side effects include but are not limited to nausea, changes in mood, muscle weakness, skin pigmentation and anemia. While the drug may be used during pregnancy, the potential benefits and risks should be discussed with your doctor.
In summary, if you have Sjögren's, hydroxychloroquine may be an option to help your symptoms. Because there are other more effective therapies available to treat dry eyes and dry mouth, it is typically prescribed to help musculoskeletal pain and fatigue. Be patient, as the drug may take up to 6 months to see a beneficial effect.
by Scott Zashin, MD Internist & Rheumatologist in Dallas, TX
This information was first printed in The Moisture Seeker, SSF's patient
newsletter for members.