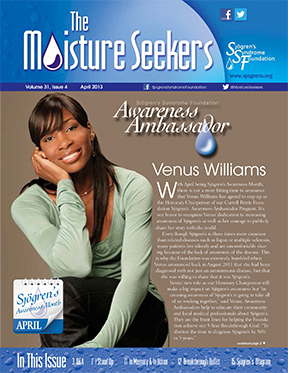 The Sjögren's Syndrome Foundation is excited to announce Venus Williams as the Honorary Chairperson of our Carroll Petrie Foundation Sjögren's Awareness Ambassador Program. Venus' courage to share her story makes her a great Awareness Ambassador and we are thrilled to have her leading the charge as our Chairperson," said Steven Taylor, SSF CEO.

Awareness Ambassadors are on the front line for helping the Foundation achieve our 5-Year Breakthrough Goal! Our goal: "To shorten the time to diagnose Sjögren's by 50% in 5 years," will only e achieved by volunteers helping to educate their community and local medical professionals about Sjögren's and its various manifestations.
Only when Sjögren's is recognized as a serious disease will patients receive the care needed.

"By becoming an Awareness Ambassador, you will be helping to increase awareness of Sjögren's – a very important cause I have been working on since I was diagnosed in 2011. Please join with me as we make a difference in how Sjögren's is perceived in both the medical field and general public." – Venus Williams
Help make a difference in your community and join Venus by becoming a Sjögren's Awareness Ambassador!
Over four million Americans are estimated to have Sjögren's, yet fewer than one million have been diagnosed. Your voice will help us make Sjögren's a household name! To learn more about becoming an Ambassador, please contact Kathy Ivory by phone at 800-475-6473, extension 213 or by email at kivory@sjogrens.org.
The SSF also wants to recognize The Carroll Petrie Foundation whose generous grant, supporting the Awareness Ambassador program, will allow us to provide the materials and support needed to increase awareness in communities across the United States.