Many people are surprised to realize that Sjögren's ("SHOW-grins") is the second most prevalent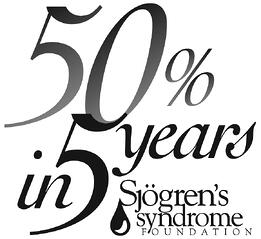 autoimmune disorder, striking as many as 4 million Americans with an estimated 3 million cases currently undiagnosed. While early diagnosis and treatment are important for preventing complications with Sjögren's, unfortunately reaching a diagnosis is often difficult and has been found to take an average of over 5 years from the onset of symptoms, which is why the Foundation launched our 5-Year Breakthrough goal in 2012: "To shorten the time to diagnose Sjögren's by 50% in 5 Years."
Sjögren's is a systemic disease in which the body's immune system mistakenly attacks its own moisture producing glands. The hallmark symptoms are dry eye, dry mouth, fatigue and joint pain, but Sjögren's can affect any body organ or system. Interstitial lung disease is the most common pulmonary manifestation in Sjögren's, but pulmonary hypertension, amyloidosis, cystic lung disease and MALT lymphoma can also occur in the lungs. Few studies have been done in pulmonary manifestations of Sjögren's, and few pulmonary experts who are also knowledgeable about Sjögren's have been available to patients.
To change this, the Sjögren's Syndrome Foundation is now partnering with The LAM Foundation to create Sjögren's Pulmonary Clinics. We applaud their vision of creating these clinics to improve the care and treatment of patients. Our hope is that these clinics will provide our patients with expert specialized care and lead to an expanded interest in pulmonary manifestations in Sjögren's and future studies that will increase our knowledge and improve future care in this field.
26 Pulmonary Clinics included in the LAM Network that will be expanded to become Sjögren's Pulmonary Clinics.
Click Here to view Pulmonary Clinics
The Sjögren's Syndrome Foundation is pleased to partner with the LAM clinics in this important endeavor.