I am honored that on July 1, I was introduced as the new Chairman of the Sjögren's Syndrome Foundation Board of Directors. My wife, Anne, and I became passionate volunteers for the SSF when Anne was diagnosed with Sjögren's, and I have seen first-hand what it's like to live with this devastating chronic disease.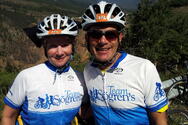 The SSF is an inspiring organization and I am personally excited, as well as honored, to be leading us over the next two years! I hope you will join me, and also consider making a donation, as the SSF embarks on a two-year journey to intensely focus on changing the way Sjögren's is treated, managed and monitored. We can't do this without you.
The past few years have seen amazing progress in awareness and research for Sjögren's. At the last American College of Rheumatology (ACR) Annual Meeting, the premier scientific and clinical meeting for rheumatologists in the United States, more abstracts and presentations specific to Sjögren's were on the program than ever before. The SSF annual educational luncheon, held for rheumatologists during ACR, was standing room only and we had more rheumatologists visit our exhibit booth requesting complimentary patient brochures for their offices than at any previous ACR meeting.
Additionally, during ACR, late breaking news was announced that six genes specific for Sjögren's were identified by SSF-supported research at the Oklahoma Medical Research Foundation. This identification is the first time that genes have been connected solely to Sjögren's and marks the beginning of unraveling the genetic basis for Sjögren's. This research was a huge breakthrough and could lead to determining a patient's individual risk of certain complications and developing future treatment.
That is why today I am asking for your support. The SSF needs your help to expand our efforts to educate healthcare professionals, increase clinical trials for new therapies and to develop better diagnostics. Just imagine what these accomplishments would do for the quality of life of a Sjögren's patient - a matter very close to my heart.
As a proud husband of a Sjögren's patient, I see the struggles that my wife experiences each and every day and I want nothing more than for her disease to be nonexistent. The critical work of the SSF brings us HOPE for the future as they lead the charge to improve the lives of all patients.
Thank you in advance for your gift as we strive to keep our momentum alive and impact the future of Sjögren's.
Sincerely,
Ken Economou
Chairman, SSF Board of Directors