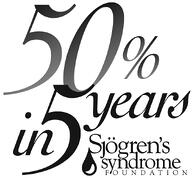 Dear Friend,
Thank you for your continued support of the Sjögren's Syndrome Foundation (SSF) and our work to better the lives of those who suffer from Sjögren's.
We are excited about the progress we continue to make and the recent advancements in Sjögren's research and awareness speaks to the continuous efforts of the SSF, our Board of Directors, Medical and Scientific Advisors, Awareness Ambassadors and the hundreds of volunteers throughout the country. But the greatest impact is being made by YOU! It is your support that has made our achievements over the past year possible. We are truly grateful for your part in our growth and success.
The SSF continues to work hard to impact the lives of those with Sjögren's and in the upcoming year, the SSF plans to:
Encourage pharmaceutical companies to

develop new therapeutics for Sjögren's

Assist in getting new Sjögren's drugs to market by working with the FDA
Encourage, support and fund innovative Sjögren's research
Continue our work on the SSF Clinical Patient Guidelines for Sjögren's
Support the development and use of new diagnostics for Sjögren's
Expand our focus in educating all healthcare providers about the severity of

Sjögren's and its numerous manifestations

Further support patients, family and caregivers
Each year, we continue to fight to maintain our hard-won achievements and will make even greater strides forward in the upcoming year. I hope you will renew your support with a year-end gift to the SSF, and give what you can to support our efforts to create a better future for all patients living with this debilitating disease.
Wishing you and your family a wonderful holiday season!
Sincerely,


Steven Taylor,
SSF Chief Executive Officer