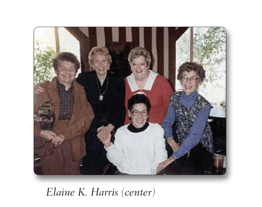 September marks the 35th Anniversary of the Sjögren's Syndrome Foundation (SSF) that was founded by Elaine K. Harris, a frustrated patient determined to learn more about her disease. During the SSF's first year, Elaine held support group meetings in her home and wrote The Moisture Seekers, the Foundation's patient newsletter, on her typewriter. She then slowly grew that support group into the SSF.
Today, in her 90s, Elaine still remains an important force in the eyes of the SSF. Her mantra of "founded by a patient, for patients" remains the center of what we do. While the Foundation has always been a patient focused organization, it has grown from a "Mom & Pop" operation that was started 35 years ago into an internationally recognized organization shaping the industry in terms of research, education, patient care, advocacy and new therapies.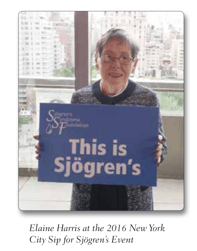 The SSF staff and our hundreds of volunteers, work hard to ensure that the patient voice is never lost in our discussions nor plans. And our accomplishments speak volumes for how we are changing Sjögren's for our patients. We are working diligently on the development of new therapeutics to treat Sjögren's and have published the first-ever Clinical Practice Guidelines in Sjögren's! These guidelines are starting to provide a roadmap for physicians and dentists to use when treating their patients.
And probably one of the biggest accomplishments in the past 5 years, is the SSF's achievement of our 5-Year Breakthrough Goal – to reduce the time to diagnose Sjögren's by 50%! When we set that goal in 2012, it took nearly 6 years to receive a proper diagnosis, and we are proud to say that, in 2017, we were able to announce that we exceeded our goal and have reduced that time to 2.8 years!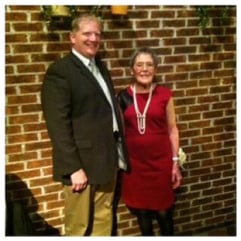 Sjögren's is finally receiving the recognition and appreciation it deserves. Although not to the level we need it to be, we are seeing more and more physicians step up to learn about Sjögren's, while more and more families of patients are starting to get involved with the SSF.
We are also seeing more interest from pharmaceutical companies than ever before, all interested in helping us to find a new treatment to help our patients! A treatment that will help fight the entire disease, not just one symptom.
Happy Anniversary SSF and here is to another 35 years!

Help us celebrate 35 years of helping all Sjögren's patients!