The Sjögren's Syndrome Foundation (SSF) has developed the first-ever U.S. Clinical Practice Guidelines for Caries Prevention in Sjögren's to ensure quality and consistency of care for the assessment and management of patients.
The SSF Clinical Practice Guidelines for Caries Prevention in Sjögren's patients will help dentists, oral medicine specialists and Sjögren's disease patients determine the best strategies for preventing caries due to dry mouth. The SSF Oral Working Group stresses that identification of potential Sjögren's patients within the clinical practice is paramount for ensuring proper monitoring, timely treatment, prevention of serious complications, and referral to other specialists who can monitor and manage non-oral aspects of this disease.
Six years ago, the SSF initiated the development of clinical guideline recommendations for medical practitioners in three categories: rheumatology, oral medicine/dentistry, and ocular management. These will help to standardize patient care by giving physicians a roadmap of how to treat and manage their Sjögren's patients.
Click here to view the SSF Caries Prevention Guidelines Summary and Recommendations.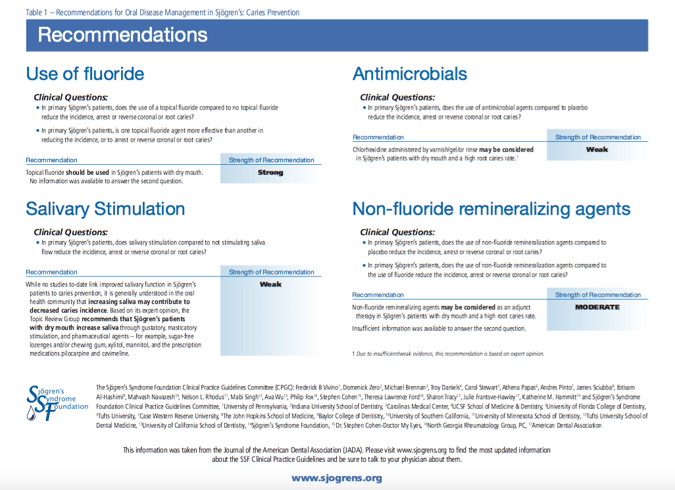 The SSF Sjögren's Clinical Practice Guidelines initiative is funded fully by the SSF with no corporate or pharmaceutical industry support. The SSF would like to thank our committee chairmen and members of the oral working group for volunteering their time and expertise to develop these guidelines. We would also like to thank all SSF members and our generous supporters for helping to make the dream of Sjögren's Clinical Practice Guidelines start to become a reality!