My Sense of Humor is Dry, and so is Everything Else! I've always had a dry sense of humor coupled with an optimistic personality. But I must admit, when I was diagnosed with Sjögren's, it took me quite a bit of time to go through the grieving process and create a bold life with my sense of humor intact.
I love those stories about people who are able to accept the diagnosis and immediately say, "Sjögren's, I may have you but you will not have me." That was not my experience. In fact, I found that that more I challenged my Sjögren's, the more it did have me!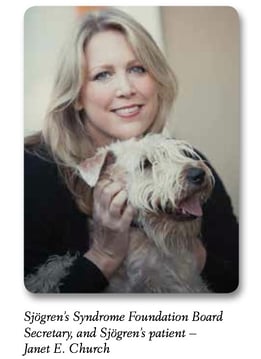 Like all of you, I now can look back and pinpoint when I was presenting early Sjögren's symptoms. My early symptoms began in 1997 as ongoing sinusitis and exhaustion. For a decade, symptoms escalated until I was hospitalized for two weeks. Nine-months after my hospitalization I was finally diagnosed with Sjögren's January 2007.
I was relieved to have the diagnosis and excited to look Sjögren's in the face and tell it, "You will not have me! I am a fighter, an optimist, a model patient and I will knock you down."
Although it turns out a fighting attitude was not what I needed and it took three years for me to find my way after my diagnosis. I was fighting Sjögren's to regain my "old self" and my previous life. What I needed was to love and embrace my Sjögren's in order to see my "whole self," accept my previous life as a point in time, and find my "new self." After all, I was young with a lot of life in front of me. It was time to explore new aspects and add to the journey.
Here are my big revelations about what worked for me. Perhaps you can find some tips for yourself or for a newly diagnosed friend.
I embraced my disease instead of fighting it
Instead of imagining an internal army kicking the sh** out of Sjögren's (as my friends who had successfully killed cancer had suggested), I found the imagery of embracing my Sjögren's to calm it down was what finally did the trick.
I think of my Sjögren's as a small girl who is tired and acting out (and yes, I recognize the "inner child" similarity here). I finally realized that I was already attacking myself and launching emotional attacks to combat Sjögren's was perhaps adding fuel to the fire. So I tried the tender approach. To me, this was different than the adage "be good to yourself" or "be kind to yourself." I imagined that the little girl dwelling inside of me was a separate person that I needed to care for. She is not mean or weak, she is in fact strong and confident, so she requires special attention.
If you are a person who tends to take care of everything and everyone around you, then this imagery might work for you too. After a few years of practicing this imagery, I now can take a short-cut and just "be good to myself."
I didn't make my world too small
There have been times when I focused mostly on Sjögren's and what I could not do. I found that my world started shrinking and became quite small. That was not the life I wanted so I had to train myself to think of all the things I CAN do. Along the same lines, I started asking the question "Why Not?" instead of "Why." Try it, it's a good practice!
Beauty & Nature Matter
I moved Sonoma, CA wine country in order to have natural beauty surround me. Not everyone can pick up and move, but everyone can take a nature walk. Be still in nature and soak in what you find beautiful.
I feel the same about the beauty and healing powers of music and art! I listen to new music and dance while making dinner almost every night.
Work and productivity
For years, I managed my work time and stress by consulting on a project basis.Two years ago I co-founded a software company and was concerned about the workload, but I have been fascinated at how well I feel! I don't work the crazy hours of my youth, and I don't see that as a shortcoming. I know my experience and wisdom (no longer sweating the small stuff) is more valuable to the company than extra hours. Even though I have periods of exhaustion, I'm actually feeling the best I have ever felt with Sjögren's.
Because I am challenged and doing something I believe I'm good at, I believe my Sjögren's is better controlled. I do have to manage stress and discipline myself to not "power through" things, which makes me feel worse. But this is all part of taking better care of myself and knowing the right work-life balance. You might find that managing your best work-life balance can help you too!
"No" is a complete sentence and it's ok!
If you are a person who has taken care of many people and many things, it's time to look at that. Sometimes it's a good thing and sometimes it crosses over into something else. Try letting go of the "something else." It's also time to let go of feeling bad about it!
Be a Good Friend
My friends have had my back when I was not doing very well. In fact, a couple of friends certainly gave more than they received for a few years. One day I asked myself "Would you want to be your friend?" I didn't like the answer so I vowed to be a good friend to those I love. In order to do that, I had to relinquish a relationship that took too much negative energy so that I had positive energy for those who lifted me up. I still make new friends, but I manage my energy and time well.
Give Back to Something
Find what is important to you and give some time to it. Although make sure you are using positive energy and that you're not pushing beyond your limits. I have several community things I support, but being on the Board of the Sjögren's Syndrome Foundation brings me great satisfaction. It combines three things for me. First, my desire to know more about the disease. Secondly, my desire to speed research for a cure. Finally, my desire to help others understand and deal positively with their Sjögren's.
I have been amazed at how much the SSF actually accomplishes on our behalf and I know we will accomplish our 5-Year Breakthrough Goal of shortening the diagnosis time 50% in 5 years. I am proud to be part of making that happen for our community!
Sleep, Exercise, Food & Wine
Sleep is my best tool! I go to sleep when I'm tired and wake up when I'm ready. And exercise is something that always makes my joints feel better.
I love food and wine. I feel my best when I eat an organic diet of fruits, vegetables and proteins, exercise daily and steer clear of carbs and sugar (which includes wine). But I live in wine country for goodness sake so I'm going to drink wine. I do so many things "right" so that I can enjoy a glass of wine when I like (preferably a really good Pinot Noir, with really good friends).
Today, I have my Sjögren's in steady order by taking pretty good care of myself and making sure I balance all things in my life that define, for me, a bold life. Now I work smart and play smart. I do have daily symptoms that I stay on top of, but I simply accept them as part of my life now. Just like aging. And menopause. Good thing I've got my sense of humor back to deal with that!
This article was first printed in the The Moisture Seekers, SSF's patient newsletter for members.
PS: I lifted the first line of this article from fellow SSF board member Dr. Herb Baraf, who at our last Board of Directors meeting stated, "The SSF, even our sense of humor is dry." Funny man!