There is a growing body of evidence that rich social support networks are important to overall health, immune function and healing. They improve quality of life and facilitate coping with chronic illness. Conversely, negative social interactions create a stress response that have the opposite effect. Support from family members and close friends can be one of the most important resources for you to draw on when dealing with Sjögren's. Skillful communication about your illness is key to nourishing the relationships that matter the most to you. This article only attempts to skim the surface of this complex topic.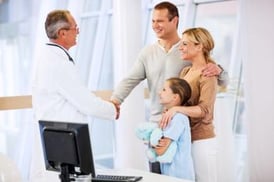 Three characteristics of Sjögren's create particular communication challenges.
1. Untimely: Sjögren's is typically diagnosed in the prime of life (40s and 50s), when family responsibilities and careers are in full swing.
While some are lucky enough to have mild symptoms, the majority of patients experience flu-like fatigue, pain and brain fog that demand a new, strict energy budget. Jobs may be lost or hours cut. Frequent medical and dental visits and costly products such as artificial tears strain both schedules and finances. Family dynamics are rearranged by the illness, causing stress, especially if there is little support or strong disagreement about how to meet the new challenge. Single people who become ill may feel particularly vulnerable and alone, wondering how will they ever manage.
2. Uncertain: Early on, many patients have a hard time accepting that this disease will be a lifelong challenge. The sense of loss and fear of long term illness can be profound for both patients and loved ones.
Symptoms may wax and wane for no obvious reason, although they rarely disappear. This can add to confusion and denial. The initial focus of patients and family members is often "how can we x this?" Denial can make adjustment to a new normal even more protracted. Sometimes denial persists for years, until it becomes clear that medications and other interventions cannot bring back "life as usual."
3. Invisible: Sjögren's patients tend to look well most of the time, even when feeling quite ill.
The outward appearance of normalcy can make it hard for others to appreciate the severity of your illness. This is made worse when doctors don't address symptoms such as fatigue and pain that make it a struggle to get through the day. Even though Sjögren's is quite common, most doctors are not trained to recognize even typical systemic symptoms, and tend to focus on dryness. Some medical websites reinforce this incorrect notion that Sjögren's is mostly about dryness, rather than a serious systemic disease. When presented with this inaccurate portrayal of the disease, family members and patients become understandably confused. Healthcare providers frequently minimize life-changing symptoms or even become dismissive, leaving the patient feeling powerless or invisible. When family members also fail to understand the devastating impact that Sjögren's can have, the emotional turmoil can be overwhelming.
As a result of widespread misinformation, patients find themselves needing to become "experts" in their disease. Backed with up-to-date knowledge, it is possible to advocate for care and educate health care providers when needed. An excellent, reliable source of information can be found at the Sjögren's Syndrome Foundation (SSF) website, www.sjogrens.org. Be sure to read or reread the "About Sjögren's" section, especially the FAQ. Encourage family members to read it too. It's really good. It might seem overwhelming and a bit disheartening that you need to learn so much about Sjögren's, especially early after diagnosis. However, educating yourself will provide essential tools for communication with family, friends and doctors.
Communication with family members
Spouses/partners and other family members suffer grief and loss too. It is important to acknowledge this. Open the discussion early. Ask about their fears regarding the impact of your illness and the uncertainly it creates. Be prepared to revisit this conversation several times. Both you and your significant others will go through loss and grief, although the timing and process is different for each individual.
In spite of your best efforts toward clear, empathic communication with your family, some people may respond with judgment and blame. This often comes as a painful surprise, especially at a time when support feels most needed. Relationship upheaval is typical for people with serious illness. It is important not to blame yourself for the illness, but to develop good self-care with an attitude of deep kindness toward yourself. Attempt to keep lines of positive communication open, but set boundaries to protect yourself from negativity.
While unsupportive family members may eventually shift their stance, the approach of trying to educate them repeatedly after several unsuccessful attempts will only result in unnecessary pain. Just having one or two people in your life who truly "get it" can be enough. Recognize that some people may be good at practical support, but unavailable emotionally. The reverse may also occur.
Practical support tips
Practical support, especially from family members, can go a long way in helping you manage your health. Most Sjögren's patients can participate in a number of activities, especially when family members take over tasks that are particularly challenging for you to do. It takes some trial and error to learn what you can do without compromising your health. Being a good observer of your unique patterns will help you plan the types of activities and pacing that works for you. Even with careful planning, the unpredictable nature of Sjögren's will sometimes knock you down when you don't expect it. It is always good to have a backup plan ready- and soup in your freezer!
Many people are happy to help, but might not ask or could assume you are doing ne if you have a partner or other adults in the home. It can be difficult to ask for help, especially if you are the "can do" type of person. It is good to remember that providing support can be beneficial to both givers and recipients. Sometimes support arrives from people you don't expect to come through, while those you think of as close friends or family may not provide support.
Examples of useful responses and communication tools
♦ If you are unsure of a person's awareness or interest, you can ask: "I'm not sure how much you know about Sjögren's- do you want to know more about what's really going on with me?
♦ When someone asks if they can help, try to be ready with a specific request such as stopping by with dinner, running errands, childcare, etc. If you are caught off guard, a good response might be: "Can I get back to you? I could really use help but I am feeling too overwhelmed to think about it right now."
♦ State your limitations and needs, clearly and without apology. If you are too tired to cook, shop or clean, state that and request specific help from household members. For example: "I'm not well enough to do housework right now. Could you please vacuum and clean the bathrooms once a week?" as opposed to the more vague, "I need more help with the cleaning."
♦ Many people go into advice giving mode, offering instant remedies such as the latest diet, various medical regimens, healers etc. This may be motivated by a true desire to help, or it can be a way to distance themselves from your experience. Some possible responses: "Thanks for your concern, I am working closely with my doctor on this," or "I appreciate your concern. I need to do this in my own way and in my own time. It would be great if you could support my choices."
♦ Dealing with insensitive and judgmental comments, especially if repeated, is difficult. One strategy is to provide the speaker with an opportunity to consider the hurtfulness of their comments, by asking: "Let me understand. Are you saying (repeat hurtful comment)?" The person may back pedal or give their comment more thought. This does not always work. Here are examples of responses to real life comments:
♦ "If you just stopped taking all those medications, you would be fine."
♦ Response: "What I'm hearing you say is you think Sjögren's is not serious enough to require medication."
♦ "If you would exercise/lose weight/eat paleo etc. you would be fine."
♦ Response: "Do you think if I (fill in the blank) my Sjögren's will go away?"
♦ To a more subtle comment insinuating you are not trying hard enough: "I'm hearing you say that if I tried harder that I could do _______ (fill in activity) and still manage my Sjögren's symptoms."
♦ If responses like this do not work, set boundaries: "It hurts to hear you say this. I am doing my best. Please keep these comments to yourself."
It can be especially difficult when someone close to you clearly does not understand your illness or support your efforts to take care of yourself. Relationships that were difficult to begin with may become even more painful. Some relationships do not survive the stress of chronic illness. Family members have a limited capacity for emotional or practical support. If you don't feel supported by those closest to you, being creative about organizing your life, getting support from others, and setting excellent boundaries may be your best strategy. If you are dealing with a close relationship that seems to be faltering, it can be helpful to seek professional support from someone knowledgeable about chronic disease.
Most importantly, know that the news here is not all bad. Many people do step up to the plate, although they may need prompting. Be patient if they are trying to understand; it takes time to adjust and to learn about Sjögren's.
by Sarah Schafer, MD and Sjögren's Patient
Special acknowledgment to Teri Rumpf, PhD and Julia Oleinik, RN for their contributions to this article
This information was first printed in The Moisture Seeker, SSF's member newsletter