30 Faces for Sjögren's Awareness Month!
With an estimated 4 million Americans suffering from Sjögren's, both men and women of different ages and ethnicities, it is one of the most prevalent but lesser known autoimmune diseases. Sjögren's is also not a "cookie cutter" disease and affects patients differently. This can lead to a misunderstanding about the seriousness of the disease and be extremely isolating for those living with it.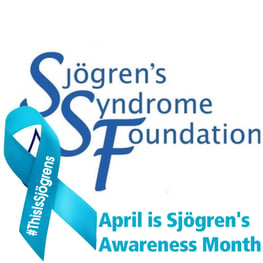 April is Sjögren's Awareness Month and using our 2018 campaign, "30 Faces for Sjögren's Awareness Month," we hope to help others visualize the vast impact of the disease. Every day in April, we will be using one or more of our social media channels to educate people about Sjögren's.
We encourage you to use April Awareness Month and our #ThisIsSjögrens social media campaign, as a way to talk about Sjögren's. Every post is an opportunity to start a conversation about living with Sjögren's and how it affects you. The more others understand, the more support you can find. And know that we at the Sjögren's Syndrome Foundation are here for you!
Get Involved!
On behalf of the millions of patients living with Sjögren's, thank you for your support of the SSF and our mission. Together we are transforming the future of Sjögren's for all patients!

Sjögren's ("SHOW-grins") is a systemic autoimmune disease that affects the entire body. Along with symptoms of extensive dryness, other serious complications include profound fatigue, chronic pain, major organ involvement, neuropathies, and lymphomas.