This past Monday, July 23rd, people from around the world joined together in recognizing World Sjögren's Day. The Sjögren's Syndrome Foundation was truly moved by the number of donations we received, the amount of Sjögren's fact sheets downloaded, and all of the encouraging posts that were shared on social media. It was a very successful day that brought a great deal of awareness for the disease.
Just because World Sjögren's Day has now passed though, it doesn't mean that the fight ends. While it certainly made an impact, one day alone of increasing awareness and raising much needed funds is not enough. There is still time to make a donation in honor of World Sjögren's Day. You can also donate in honor of a loved one or in honor of the millions of people living with the disease. Additionally, you can still download the Sjögren's fact sheet to help you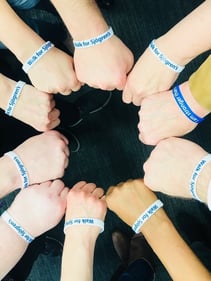 increase awareness. You never know when the opportunity to share information about Sjögren's may arise and we encourage you to do so whenever you have the chance.
To change the future of Sjögren's — to achieve the very first therapeutic specifically for Sjögren's, to provide healthcare professionals with guidelines to properly treat patients, to educate patients and give them the support they need to best deal with their disease — we must continue to work together. Your support is invaluable in helping to transform the future of Sjögren's.
The SSF appreciates any efforts you can make throughout
the year to help every day feel like World Sjögren's Day!
Sincerely,