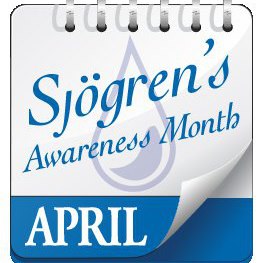 Today begins Sjögren's Awareness Month and for the next 30 days we will use your words to help raise awareness of this debilitating and complex disease.
You are the voice of the Sjögren's Syndrome Foundation, which is why last month we asked you to share with us one phrase that represents what it is like to live with Sjögren's. Everyday in April we will post a different one of your phrases on social media that reflects living with this invisible disease.
Each phrase will give a small glimpse into the life of Sjögren's patients and by the end of April, we hope these 30 phrases will help others better visualize and understand the disease.
We encourage you to follow us this April and look for opportunities to share how Sjögren's has impacted your life. Remember that by talking with one person at a time, one community at a time, one physician at a time and one company at a time – together we will reach our goal and conquer Sjögren's!
This is Sjögren's!
#Day1: I look healthy on the outside, however my disease is attacking my internal organs and destroying me from the inside out. #ThisIsSjögrens #SjögrensAwarenessMonth #TheSjögrensJourney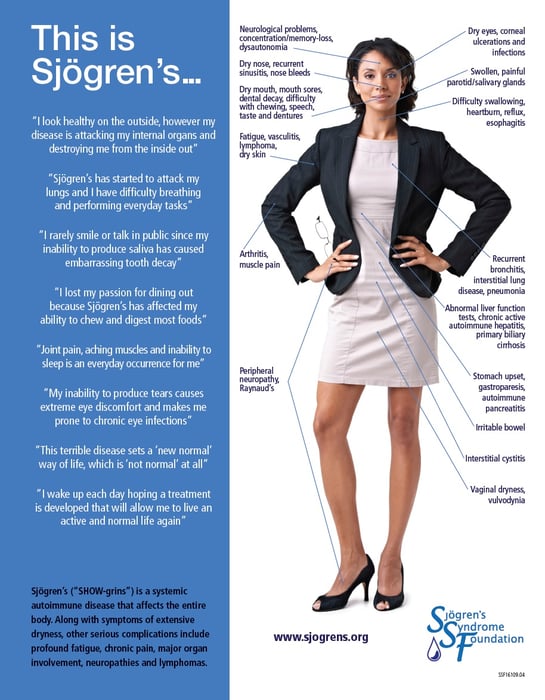 What is Sjögren's?
Sjögren's ("SHOW-grins") is a systemic autoimmune disease that affects the entire body. Along with symptoms of extensive dryness, other serious complications include profound fatigue, chronic pain, major organ involvement, neuropathies and lymphomas.
Today, as many as four million Americans are living with this disease and nine out of ten patients are women with an average age of onset in the late 40's. However, Sjögren's can occur in all age groups, even in children.