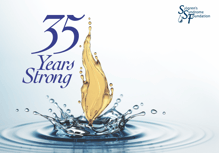 The Sjögren's Syndrome Foundation (SSF) began in 1983 in the home of Elaine Harris, a patient. For the past 35 years, the SSF has been honored to support all Sjögren's patient and the mantra of Elaine—"founded by a patient, for patients" —remains the center of what we do by ensuring that the patient voice is never lost in our efforts.
Over the years, the work of the Foundation has grown and adapted to meet the needs of both current patients and future generations. As we continue to expand our reach and scope as the disease evolves, the SSF volunteer Board of Directors wanted to clearly communicate our vision and what we want to accomplish in the coming years.
Today, the SSF is proud to announce that after months of planning and the involvement of many volunteers, patients, researchers and physicians, we have set a new vision statement.
SSF Vision Statement:
"To create a community where patients, healthcare professionals and researchers come together to conquer the complexities of Sjögren's."
With a new vision, the Foundation decided to update our mission to better reflect our current and future goals and aspirations for the SSF.
SSF Mission Statement:
• Support Sjögren's patients and their loved ones through education, resources and services
•
Provide credible resources and education for healthcare professionals
•
Serve as the voice for all Sjögren's patients through advocacy and awareness initiatives
•
Lead, encourage and fund innovative research projects to better understand, diagnose and treat Sjögren's

The new mission and vision statements underscore the SSF's commitment to supporting patients, while acknowledging the truly complex nature of the disease. The core values from our previous mission statement that we had for 35 years remains the same: educate patients and their families about Sjögren's, increase public and professional awareness of Sjögren's, and research into new treatments and a cure. The updated mission encompasses those core values but includes our work in advocacy, professional educational resources and patient programs, to better portray what work needs to be done today in order to conquer this debilitating disease.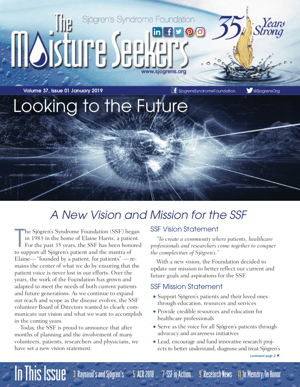 The accomplishments of the past 35 years have been incredible and the SSF has recently seen extraordinary results from our efforts. It was only a year ago that we announced surpassing our 5-Year Breakthrough Goal, to reduce the time of diagnosis by 50% in 5 years. Taking the average diagnosis time from over 6 years to 2.8 years. Back in 2012, when we established the goal, we were told by experts that it would be very hard to reach. But the SSF staff and volunteers knew that the Foundation couldn't sit on the sidelines and let patents go years without having a proper diagnosis.
We also knew, that by getting patients diagnosed quicker, patients could then get the appropriate treatment to hopefully prevent and/or be monitored for serious complications such as corneal scarring, loss of teeth, internal organ involvement, misdiagnosed neuropath pain, profound fatigue, or chronic upper respiratory problems, to just name a few. Systemic issues could also be caught earlier and mitigated. With our new mission and vision, it is still our hope to have Sjögren's at the top of physician's minds when they hear a patient complaining of dry mouth, dry eye, fatigue, or joint pain, because no patient should have to suffer from the lack of a physician's awareness and education. This is why our awareness efforts will surely continue. Other recent achievements include: writing and publishing the first-ever clinical practice guidelines on how to treat and manage Sjögren's patients with Phase 2 currently underway; our work in getting closer to developing a drug to treat all Sjögren's symptoms; and efforts to increase awareness and educate healthcare professionals to ensure Sjögren's is not forgotten in the research, pharmaceutical or physician communities.
We know our work is far from over, but we have also seen what we are able to accomplish together! We are seeing the disease being taken more seriously in the medical community. The Foundation will continue building on our work to ensure Sjögren's is not forgotten in the research, pharmaceutical or physician communities. We are committed to accelerating the development of better diagnostic, management and therapeutics that will have the greatest potential impact on improving the quality of life for Sjögren's patients.
The SSF Board of Directors and staff are humbled by your support and what we have been able to achieve together. From our patient volunteers to our professional educators and corporate partners, thank you to everyone who has helped us along our way and who are continuing to stand with us as we look to the future. We encourage you to look for opportunities in this new year to become more involved with the Foundation and stand up for all patients, both current and future generations.
The updated mission and new vision of the Sjögren's Syndrome Foundation will allow us to successfully forge ahead as we work to conquer the complexities of Sjögren's.
Together we can make our vision a reality!
The information from this post was first published in The Moisture Seekers, SSF's member newsletter.