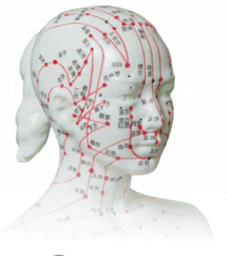 July is Dry Eye Awareness Month! We hope you enjoy this blog post aimed to promote dry eye awareness and education.
The "Living with Sjögren's" patient survey, conducted by Harris Poll on behalf of the Sjögren's Syndrome Foundation, SSF, showed that 92% of Sjögren's patients suffer from dry eye. Chronic dry eye has two main causes: decreased secretion of tears by the lacrimal (tear-producing) glands and loss of tears due to excess evaporation. Both can lead to ocular surface discomfort, often described as feeling of dryness, burning, a sandy/gritting sensation, itchiness, visual fatigue, sensitivity to light and blurred vision. In Sjögren's, a person's white blood cells mistakenly invade moisture-producing glands and affects the entire body, including the lacrimal glands, causing inflammation and reducing secretion, which causes dry eye to be one primary symptoms of the disease.
Chronic dry eye does not typically get better on its own, and often times it will get worse. Acupuncture is a very safe treatment, and apart from occasional bruising, its side effects typically include improved sleep quality, relaxation of tense muscles, and a sense of wellbeing.
Can acupuncture increase moisture with dry eyes?
The beauty of acupuncture is that it does not build a dependency and in fact builds independence by helping to rebuild and restore function to various body systems.
A study published in the Chinese Journal of Practical Ophthalmology "found that patients receiving acupuncture plus lubricant eye drops had a 76.92% improvement in rate of dry eye symptoms. Patients receiving only lubricant eye drops had a 53.85% improvement. Tear film stability improved significantly with acupuncture. Patients receiving acupuncture plus eye drops had a tear film break-up time of 4.03 seconds compared with 2.11 seconds for the eye drop only group." This means that acupuncture resulted in increased tear production and slower tear evaporation, so tears last longer.
Another study, published in Ophthalmology Times, found that acupuncture "significantly improved patients' subjective assessment of dry eye symptoms, was associated with significant reduction in use of artificial tears at six months, and its benefits lasted for 9-12 months."
Having an autoimmune disease, like Sjögren's, can be stressful and overwhelming at times, often leading to poor sleep quality. All of these work against creating and maintaining healthy levels of serotonin, which is fundamental to healthy tear production.
Receiving regular acupuncture helps maintain healthy serotonin levels, as well as to decrease inflammation, increase circulation, and stimulate the nervous system to focus on a specific region, such as the eyes.
What does this mean for Sjögren's patients?
It means that although you have Sjögren's and may always have to work to maintain a reasonable number of tears, a combination of diet, stress management, and acupuncture may be able to minimize and help keep your symptoms at bay.
Dr. Townsend, adjunct professor at the University of Houston College of Optometry, says that "the potential patient benefits of acupuncture suggests that, at the very least, we should consider contacting an acupuncturist and explore working together as a possibility."
Acupuncture has become so popular in the past few years that everyone is adding it to their list of services. Look for a National Certification Commission for Acupuncture and Oriental Medicine (NCCAOM®) board certified acupuncturist who has a minimum of four years of formal training and countless hours of clinical experience to ensure the best possible experience.
by Chris Leininger, DACM (c), Dipl. Ac. & ABT (NCCAOM), L.Ac., Founder and Director of Pure Health Acupuncture, LLC in Brazil, IN.
This information was first printed in The Moisture Seeker, SSF's member newsletter.