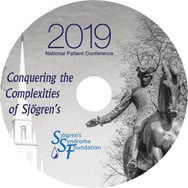 If you missed the SSF 2019 National Patient Conference, you can now get all the vital information you need in an audio format!
Seven of our most popular talks from the Sjögren's National Patient Conference held in Woburn, Massachusetts, are available for purchase. Each talk is 30-40 minutes long and comes with the handouts used by the presenter so you can follow along.
Available Audio Talks from the 2019 National Patient Conference:
The Complexities of Sjögren's: An Overview, by Theresa Lawrence Ford, MD
Oral Manifestations of Sjögren's, by Vidya Sankar, DMD, MHS
Fatigue and Sjögren's, by Donald E. Thomas, Jr., MD
Understanding Blood Changes and Lab Results, by Alan N. Baer, MD
Ocular Manifestations of Sjögren's, by Esen K. Akpek, MD
Nutrition, Wellness and Autoimmune Disease, by Lauri Lang, RDN, LDN
How Sjögren's Can Impact the Central Nervous System, by Edward A Maitz, PhD


(You must be logged in to purchase at the Member Price. Double check that you are receiving the correct price before finalizing your purchase.)
These audio presentations are an excellent way to have a permanent resource with some of the most vital information available to Sjögren's patients. Purchase just the talks you want to hear or purchase the whole set!
Click here to order one of our available 2019 talks or you can order by calling our office toll-free at 1-800-475-6473.