Sicca is a word derived from the Latin siccus, meaning "dry." Dryness of the exocrine glands, particularly the eyes and mouth, is referred to as "sicca syndrome" or "sicca complex" when there is no evidence of autoimmune disease present. While sicca symptoms occur in the vast majority of Sjögren's patients, not everyone with these symptoms has Sjögren's. Because of this, it is important to establish an autoimmune cause for the dryness. Sometimes other causes may be found, such as radiation therapy to the head, certain medications, or Hepatitis C or HIV infections. If no cause is found, the patient should be followed carefully for possible Sjögren's because it sometimes takes years for the diagnosis to become clear.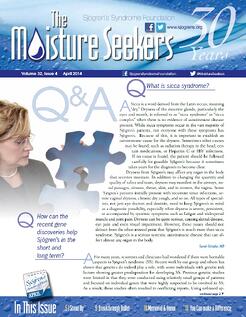 Dryness from Sjögren's may affect any organ in the body that secretes moisture. In addition to changing the quantity and quality of saliva and tears, dryness may manifest in the airways, nasal passages, sinuses, throat, skin, and in women, the vagina. Some Sjögren's patients initially present with recurrent sinus infections, severe vaginal dryness, chronic dry cough, and so on. All types of specialists, not just eye doctors and dentists, need to keep Sjögren's in mind as a diagnostic possibility, especially when dryness is severe, persistent, or accompanied by systemic symptoms such as fatigue and widespread muscle and joint pain. Dryness can be quite serious, causing dental disease, eye pain and even visual impairment. However, these issues should not detract from the often missed point that Sjögren's is much more than sicca syndrome. Sjögren's is a serious systemic autoimmune disease that can affect almost any organ in the body.
-Sarah Schafer, MD
This information was first printed in the April issue of The Moisture Seeker, SSF's patient newsletter for members.