by Philip L. Cohen, MD, Professor of Medicine, Temple University School of Medicine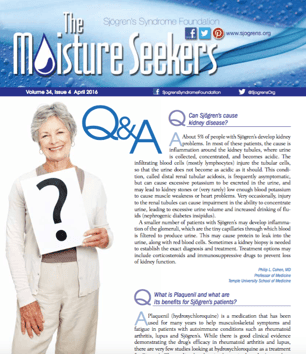 About 5% of people with Sjögren's develop kidney problems. In most of these patients, the cause is inflammation around the kidney tubules, where urine is collected, concentrated, and becomes acidic. The infiltrating blood cells (mostly lymphocytes) injure the tubular cells, so that the urine does not become as acidic as it should. This condition, called distal renal tubular acidosis, is frequently asymptomatic, but can cause excessive potassium to be excreted in the urine, and may lead to kidney stones or (very rarely) low enough blood potassium to cause muscle weakness or heart problems. Very occasionally, injury to the renal tubules can cause impairment in the ability to concentrate urine, leading to excessive urine volume and increased drinking of fluids (nephrogenic diabetes insipidus).
A smaller number of patients with Sjögren's may develop inflammation of the glomeruli, which are the tiny capillaries through which blood is filtered to produce urine. This may cause protein to leak into the urine, along with red blood cells. Sometimes a kidney biopsy is needed to establish the exact diagnosis and treatment. Treatment options may include corticosteroids and immunosuppressive drugs to prevent loss of kidney function.
This information was first printed in The Moisture Seekers, SSF's patient
newsletter for members.