"Findings yield new clues to puzzling autoimmune disease"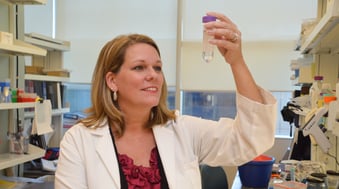 Oklahoma Medical Research Foundation (OMRF) scientist and former SSF research grant recipient, Kathy Sivils, Ph.D.,
and her colleagues have identified a strong association between a variant in a gene called OAS1 and susceptibility to Sjögren's. This variant may provide valuable insight into the genetic basis of Sjögren's, as well as other autoimmune conditions with similar triggers.
This research was completed by the Sjögren's Genetics Network (SGENE) that consists of an international coalition of researchers led by scientists at OMRF, including two former SSF Research Grantees: Dr. Kathy Sivils and Dr. Christopher Lessard.
"There was very little evidence for a connection to autoimmune disease prior to our study. Firmly establishing this new association with Sjögren's then led us to look at the gene's function in more detail," said OMRF scientist, co-leader of the project and former SSF research grant recipient, Christopher Lessard, Ph.D.
"If we can get out ahead of the disease, it might help lessen the severe damage that can occur in salivary glands and other organs," Dr. Sivils said. "Early diagnosis and proper treatment are crucial, and discoveries like this one may give researchers and healthcare professionals more to work with as they look for clues to this perplexing disease."
Although this is only one step in unlocking the mystery of Sjögren's, this breakthrough gives hope for future researchers to investigate causes, progressions, and treatments at the disease's genetic level.
"On behalf of Sjögren's patients, the Sjögren's Syndrome Foundation (SSF) applauds OMRF for its commitment to finding the many unanswered questions about the disease," said SSF CEO Steven Taylor. "Drs. Sivils and Lessard, along with their OMRF colleagues, continue to leave their mark in advancing Sjögren's research, and patients worldwide will benefit from their hard work."
It's because of your generous support that the SSF is able to award grants to talented investigators, like Dr. Sivils and Dr. Lessard, who bring novel approaches to Sjögren's research. The SSF is currently focused on many research initiatives including: Research Grants, Clinical Practice Guidelines, Clinical Trials Consortium and our 5-Year Breakthrough Goal. We hope you will consider donating to the SSF Research Program and help us transform the future of Sjögren's for all patients and their families.
Click here to read the full press release from OMRF