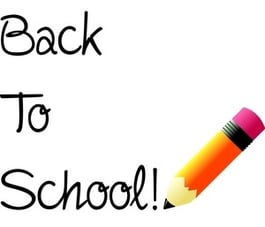 This fall, as students around the country begin to head back to school and get ready for a new year, the Sjögren's Syndrome Foundation (SSF) is using this time to write about "back to basics" in terms of managing your Sjögren's health. In this blog post, we have focused on the fundamentals that can often be forgotten in the busy day-to-day life.
Your medical team:
As most of you know, rheumatologists have the primary responsibility for managing Sjögren's and usually are the lead of your "medical team." That is why, when seeing a new physician or any of your many specialists, it is important to establish clear guidelines regarding your medical management, which means clarifying what things that doctor will be managing versus what your rheumatologists and/or primary care physician will oversee. All of these healthcare providers make up your "medical team." However, it is crucial that your lead physician has all of the information regarding your diagnoses, treatment plans and prescriptions that your entire medical team is providing. This will help the lead physician better manage your case.
It is important to find a doctor who is both a good partner in treating your disease, as well as a good listener. While we know this can be very difficult, it is needed to make sure you are getting the attention your disease requires.
What medications to ask your doctor about:
A Sjögren's patient's treatment path should be decided on a case-by-case basis after the potential benefits and side-effects are weighed by patients and their healthcare providers. Currently, a number of different medications are available that might be used to manage symptoms. However, at the present time there is no single medication that has been conclusively proven to slow the progression of Sjögren's or cure the disease.
Success in using disease-modifying agents to treat closely related disorders like systemic lupus and/or rheumatoid arthritis has led physicians to utilize some of these treatments in Sjögren's as well. The two most popular choices at present include Plaquenil® (hydroxychloroquine)® (hydroxychloroquine) and intravenous rituximab. The decision to prescribe these specific medications is made on a case-by-case basis after careful consideration of potential risks and benefits.
In addition, many patients also are prescribed corticosteroids as well as prescription products to treat their various symptoms including but not limited to dry eyes, dry mouth, gastrointestinal and joint pain symptoms. As the SSF continues to release Sjögren's Clinical Practice Guideline Sheets, be sure to ask you physician about the recommend treatment options listed.
The SSF is dedicated to research into studies that help us better understand the full benefit of these treatments as well as working with companies to help develop new therapeutics that can treat the disease as a whole. The SSF is excited about the current pipeline for treatments that are being investigated by companies, and we continue to be at the forefront at working with and encouraging these companies to move forward.
What to take to a doctor's appointment:
You should be prepared for a new doctor's appointment and know your specific objectives for that visit. If this is your first visit to a doctor, it is essential to give them a copy of all your medical records. They will not have time to read it over there during your appointment, but they can keep it on file to review after your first visit.
It is also key to show your physician that you want to be an active participant in your care. Make sure to tell them about all of your daily care. Bringing with you a typed list of medications with dosage (including over-the-counter products and supplements) can be helpful.
In addition, keeping a symptoms journal or diet journal can be beneficial to recognize new or worsening symptoms along with foods that can trigger a are. Click here for the "Tracking Your Sjögren's Symptoms" worksheet.
And finally, if you have questions for that healthcare provider, bring a list and hand it to them to review. This will help expedite their answers and make sure you get as many answers as possible in one appointment. The healthcare provider can sometimes quickly review a list of questions and tell you which ones are most important to be concerned about and which questions he/she can address at another appointment. Not only will you leave with more answers but your healthcare provider will appreciate your organization.
Find support:
As a Sjögren's patient, you face the challenge every day of coping with this debilitating disease. Though there are an estimated four million Americans living with Sjögren's, being diagnosed with an invisible illness can be isolating, which is why it is important to find support and credible information.
Signing up to receive The Moisture Seekers newsletter by becoming a member of the Foundation is your first step! Please share the articles in the newsletter that you find helpful with not only your physician, but family and friends to start a dialog about what you are going through.
Secondly, think about what works best for you in regards to how you can learn and gather information. Patients find different ways to learn how to live with Sjögren's and here is a listing of just a few: