In honor of Halloween and trick-or-treating sweets, the Sjögren's Syndrome Foundation would like to remind everyone to pay extra attention to their oral health with today's blog post.
Xerostomia or dry mouth is among the most common symptoms experienced by Sjögren's patients. Dental care is extremely important to those who experience dry mouth because a decrease in saliva ow has many negative effects on overall oral health.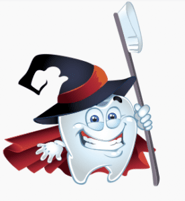 Saliva not only serves a natural lubricant that keeps our mouth moist and comfortable, but it also plays an important role in the health of our teeth and gums. Minerals in saliva help to neutralize acid and assist in the enamel repair of our teeth. Saliva also acts as a natural rinsing agent reducing the amount of bacterial plaque buildup on our teeth and gums. Plaque is a film of bacteria and sugars that forms on our teeth and leads to tooth decay (cavities) and gum disease if not removed properly.
Our toothbrush serves as the most important tool to remove bacterial plaque from the tooth surface. Brushing at least twice a day for 2 minutes will help to remove sticky plaque from the teeth, reducing the risk of developing cavities. Sonic toothbrushes are an excellent option for patients with Sjögren's. These brushes are shown to remove more plaque than manual toothbrushes because of the high intensity vibrations that they generate. Sonic toothbrushes create an average of 30,000 brush-strokes per minute as compared to an average of 300 with a manual toothbrush. The vibration created by the sonic toothbrush also drives fluid between the teeth and along the gum line. This can aid in stimulating the gum tissue and which can sometimes become sensitive with a chronically dry mouth. Using a soft or extra soft bristled toothbrush is also recommended since lack of saliva can cause the mouth to be more susceptible to cuts and sores.
In addition to brushing, it is important to floss daily to help remove the plaque in between the teeth and under the gum line. If not cleaned effectively, plaque that is allowed to accumulate around the gums can lead to gum disease.
A dry mouth also makes it easier for bacteria to stick to the tongue. This can lead to bad breath and impaired taste. It is recommended to brush your tongue daily with your toothbrush to loosen bacteria from the surface. You can also use a tongue scraper to gently remove bacteria from the tongue.
Because saliva plays such a significant role in the health of our teeth and gums, patients who experience dry mouth are at an increased risk for tooth decay and gum disease. Excellent oral hygiene and regular visits to an understanding and Sjögren's-knowledgeable dentist and dental hygienists can help reduce the negative effects of dry mouth and keep the patient happy and healthy.
by Erin LaChapelle, RDH, BSDH
This article was first printed in The Moisture Seekers, SSF's patient newsletter for members.