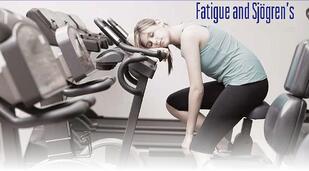 Fatigue is one of the most prevalent and disabling symptoms of Sjögren's. Here are the Sjögren's Syndrome Foundation's top 5 tips that can help you cope:
Know your limits and pace yourself. Plan to do no more than one activity on your bad days. Try to do more on your good days, but don't overdo it!

Turn your friends and family into a support system by educating them about what you are going through and how Sjögren's fatigue

can come and go. Then, a

sk them to be prepared to do one or two chores for you on your fatigue days. Give them specific instructions in advance and be reasonable with your expectations.

Get your body moving every day! This may help not only your fatigue but also your chronic pain, poor sleep and depression. Start with five minutes of aerobic exercise daily (e.g. walking, biking, running, elliptical, treadmill) and increase the duration by an additional two-to-three minutes each month up to a maximum of 25 minutes daily. If you have a heart or lung condition, consult your doctor first.

Listen to your body and plan to take a 20-minute time-out every few hours to help you get through your day.

Work with your doctor to find a treatment for your fatigue by identifiying a specific cause that may be adding to your symptoms. The possibilities may include systemic inflammation, poor sleep, fibromyalgia, depression, hypothyroidism, muscle inflammation or side-effects of medications.
Share with us below what you've found the most helpful when managing your Sjögren's fatigue.