As with any year-end non-profit donation, the age-old questions still exist - "where do my donations go?" and "what impact will they make?" As CEO of the Sjögren's Syndrome Foundation (SSF), I take great pride in being able to answer those questions by sharing with you the many accomplishments that have been achieved by the SSF thanks to the generosity of our donors.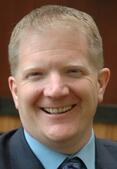 This year, I am excited that we have, once again, seen amazing progress made in the fight against Sjögren's. Just this past month, as you may have heard, Oklahoma Medical Research Foundation completed the first genome-wide study of Sjögren's where six Sjögren's genes were identified. This is the first-time that potential genes have been connected to Sjögren's and surely gives hope for future researchers to investigate causes, progressions and treatments at the Sjögren's genetic level. Most exciting, is that this research was completed by two SSF Research Grantees, Dr. Kathy Moser Sivils and Dr. Christopher Lessard. Their research grants were funded by your generous contributions to the SSF and, once again, show that your donations are having a direct impact on Sjögren's research and, specifically, this big breakthrough in Sjögren's.
That is why I appeal to you today to renew your support with a generous tax-deductible year-end gift. Your support will allow the SSF to continue funding life-changing Sjögren's research while also helping to further the SSF's efforts to better the lives of those living with Sjögren's.
I also am proud to share a few additional milestones achieved this past year thanks to your support. The SSF:
These are just a few of the things we accomplished in 2013 and, as you can see, your donations truly are impacting our efforts and the lives of Sjögren's patients. We are truly grateful to have such dedicated members, volunteers, event participants and donors that serve as the driving force behind all we do. I ask you to consider making a year-end gift so we can continue our efforts for all Sjögren's patients in 2014 and beyond. Thank you in advance for your support and generosity and I wish you and your family a happy and healthy New Year.
With sincere appreciation,

Steven Taylor
Chief Executive Officer