by, Elizabeth Chase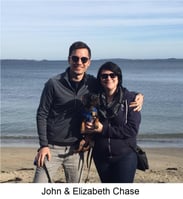 The
Sjögren's
Foundation (SSF) has really been an incredible resource for me. I was diagnosed 5 years ago at age 24 and felt very confused. I had heard of Lupus as my best friend has it, but had no clue about any other autoimmune diseases. When I first searched the word
Sjögren's
, the foundation came up. I immediately consumed everything they had to offer and became a member. I then found the Boston
support group
, and started fundraising for them online.
When I attended my first
SSF National Patient Conference
in 2013 I met my life line - the Foundation's Under 40 with Sjögren's Group Support Group. They are my go-to for everyday questions and are a great support system. Thanks to the Foundation, I have been able to share information about Sjögren's with my doctors and family. Recently, I've participated in an SSF Walkabout, organized my parents retirement parties as Sjögren's fundraisers and helped kick off the Boston Sip for Sjögren's event!

I'm very grateful for the support I have found with the Foundation and the information and resources it has provided me with. This is why I support the SSF!



The SSF was founded by a patient, for patients and the Foundation will never lose that focus. It is because of your generous support that the SSF continues to soar to new heights on our journey to transform a future of hope for all Sjögren's patients!

So on behalf of the SSF and our volunteer Board of Directors, I want to thank each of you for sharing your story, attending our events, volunteering your time and donating to our programs. Without you, we would not be able to share the amazing successes that we were able to achieve in 2015 and build on this momentum in the New Year.
Wishing you and your family a Healthy and Happy New Year!
Sincerely,

Steven Taylor
We encourage you to comment below & share what the SSF means to you.