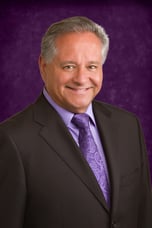 I am honored to be the new Chair of the Sjögren's Syndrome Foundation's (SSF) National Board of Directors. Having served on the Board for the past five years, I have seen first-hand the incredible work being done by the SSF and the impact the Foundation has made on the lives of those living with Sjögren's.
As a practicing optometrist for thirty years, I have had the pleasure of holding leadership positions in numerous community and professional eye care organizations. With all this experience, I can confidently say that there is something truly different about the SSF. The CEO, Steven Taylor, has built an organization in which the volunteer board and the professional staff work together in an efficient and cooperative way. He has engaged hundreds of volunteers from across the country to help increase awareness, raise funds, lead events and promote the work of the SSF. He has established a Board that is made up of a combination of patients, family members of patients, doctors, along with others who have an interest in the disease. The SSF staff never treats their work as a job, but rather as a calling to make a difference in the lives of those struggling with this devastating disease.
The SSF works in many areas to ensure that no stone goes unturned and that every program and project is evaluated with the patient in mind! The SSF has a strong advocacy and research arm that is working with pharmaceutical companies to develop a therapeutic for Sjögren's. Recently, the SSF held an introductory meeting with the FDA to help launch an ongoing dialogue about clinical trials for new therapeutics in Sjögren's. In addition to this work, the SSF also has brought together professional leaders in all areas of care to produce and publish the first-ever Sjögren's clinical practice guidelines that doctors can now use as a roadmap for how to appropriately care for Sjögren's patients. And our strong focus on educating patients and their families can be seen by our annual national patient conference and our more than 65 patient support groups in the United States.
As Board Chair, I am honored to be representing all Sjögren's patients. I am truly proud to be a part of this outstanding organization and hope you'll join with me by supporting the SSF. TOGETHER, we can continue our momentum and improve the quality of life for all those who suffer with Sjögren's!