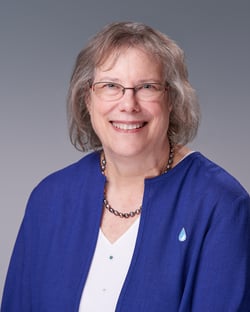 As Vice President of Medical & Scientific Affairs, Kathy Hammitt oversees the SSF's key research and medical initiatives to increase our knowledge about Sjögren's, improve the exchange of ideas to accelerate research, and set the stage for better treatment and management of Sjögren's.
To accomplish these goals, Kathy oversees the development of the first-ever Clinical Practice Guidelines in Sjögren's, a major SSF project that will markedly improve quality of care by offering a roadmap for managing and treating the disease. This initiative will change the face of Sjögren's and how the disease is managed in the clinical setting.
Kathy also co-leads the Foundation's Clinical Trials Consortium, an international initiative that works closely with clinicians, medical centers, industry and government agencies to speed up the development of new therapies for Sjögren's. In 2001, no Sjögren's therapies were in development, but today, in 2015, we are proud to report that over 15 therapies are being researched and/or in initial trials to help Sjögren's patients with their systemic disease.
Kathy created and serves as the Editor for the SSF's Sjögren's Quarterly, a major resource for healthcare professionals and the only publication covering all clinical and scientific aspects of Sjögren's. In addition, Kathy is an Associate Editor of The Sjögren's Book and author or co-author of text book chapters on autoimmune disease and Sjögren's, CME programs, and articles for medical and scientific journal publications on Sjögren's. She also is co-author of The Sjögren's Syndrome Survival Guide, a book designed to help patients better understand their disease, how to live with it and take control of their lives.
Other efforts to increase interest in and funding for research into Sjögren's include Kathy's oversight of the SSF research grants program; her active participation on the National Institutes of Health (NIH) Autoimmune Diseases Coordinating Committee; and service as Vice President of the Friends of the National Institute of Dental and Craniofacial Research (NIDCR), the NIH institute housing the Sjögren's clinic. Kathy also serves on the National Institute of Arthritis and Musculoskeletal and Skin Diseases (NIAMS) patient advocacy coalition. Formerly, Kathy served on the Advisory Council for the NIDCR, led the National Coalition of Autoimmune Patient Groups, and worked with Congress to obtain research funding for Sjögren's through federal appropriations language, congressional briefings and the Foundation's first Capitol Hill Day.
A former television news producer and writer in Washington, D.C., Hammitt holds an M.A. in journalism from the University of Missouri-Columbia and graduated from the Publishing Procedures Graduate Certificate Program, Radcliffe College and Harvard University.
Kathy also brings a special passion to her position at the SSF as a Sjögren's patient herself – After being diagnosed with Sjögren's, nearly 30 years ago, Kathy became an ardent advocate for change and believes in empowering patients to take an active role in their illness and bringing the international community together to create a brighter future for those who suffer from Sjögren's. Through her journey with Sjögren's, she has been fortunate to have her husband by her side with whom she has raised two wonderful children and now has two grandchildren who are the joy of her life.
Kathy Hammitt, khammitt@sjogrens.org
Click here to view more SSF Staff Bios