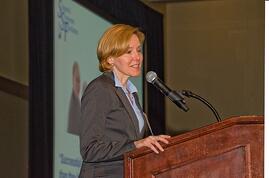 Sheriese DeFruscio is the Vice President of Development, Marketing & Corporate Relations for the Sjögren's Syndrome Foundation.
Since joining the Foundation in 2005, Sheriese has concentrated on developing the Foundation's development and fundraising initiatives. Under her direction, the SSF has doubled in growth from raising $1 Million annually to raising over $2 Million annually.
Sheriese has helped to establish a strong development program to include corporate partnerships, individual giving as well as fundraising from special events. Through Sheriese's leadership, new corporate partnerships have been established resulting in increased funding to create and launch new patient programs, awareness initiatives and research programs.
Since the onset of her career with the SSF, Sheriese has successfully focused on increasing fundraising revenue by introducing SSF fundraising events in communities around the United States. These events not only raise funds for the fight against Sjögren's, but they also lead to greater Sjögren's awareness in communities across the nation.
Most notably, Sheriese took our two signature events and launched them nationwide. First, our Sjögren's Walkabout program has gone from 2 events to over 20 events nationwide since Sheriese joined the SSF. These walkabouts now annually raise over $250,000 for the SSF. Secondly, Sheriese helped launch our Sip for Sjögren's – Fine Water Tasting event by piloting the first-ever event in Albany, New York – her hometown. Sip for Sjögren's can now be seen in 5 cities and help to raise over $100,000 annually.
Prior to her career with the SSF, Sheriese brings years of corporate and nonprofit background including serving as the Corporate Relations Director for the American Heart Association (AHA), overseeing corporate relations in upstate New York including managing the largest fundraising event in her community, raising over $750,000 at one walk. Sheriese also managed the AHA's Northeast NY Capital Regions CEO Governors luncheon and Cardiac Kids program.
In addition, Sheriese has experience working in health insurance market as well as corporate advertising. This experience all coupled with her years of volunteering for local organizations as well as her working experience in the non-profit community has helped Sheriese lead the SSF to new heights!
Sheriese brings with her compassion for Sjögren's patients, as a personal friend of hers was diagnosed over 20 years ago. Sheriese regularly can be seen at SSF events alongside her volunteering family - her husband Chris and their four daughters, Kayla, Brittany, Sydney and Stacey!
Sheriese DeFruscio, sdefruscio@sjogrens.org